Quest Description
Edit
Help celebrate the Farmer's birthday in style!
Note: This quest requires travelling to Newbie Areas with restricted access, making it tough to complete after advancing past level 5.
The farmhouse to the south of Easy Street.
Todo List
Edit
The Farmer's Wife is found in the kitchen, making preparations for a birthday party. You can read her To Do list, which involves collecting various ingredients to make a cake. The list itself is regenerated each update (~90 minutes) but involves finding mobs that have 5 ingredients (and killing them or stealing from them).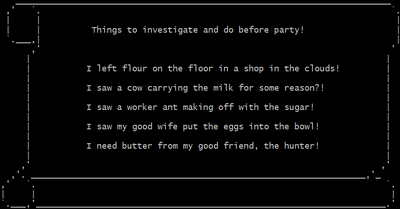 Ingredients
Edit
Flour
Milk
Bag of Sugar
a small clutch of eggs
Butter
Finding Ingredients
Edit
The ducks and cows can be found in the field north of the farmer's house.
The hunter is in a hut north of the High Tower of Magic.
The worker ant is in the basement of the tower in Shangreen.
The dirty bird is in the dungeon of the tower in Shangreen.
The shop in the clouds is (I don't know, if you find it, update here)
Bake a cake
Edit
Once you have all the ingredients collected, put them in a bowl and attempt to bake a cake. The Farmer's Wife will take over and ultimately leave a birthday cake for you to get.
Set the Table
Edit
Once you have a cake, you have to set up for the party. This involves finding two other items, the silver tankard and the box of birthday hats.
Finding Party Supplies
Edit
The box of hats is found by searching the chairs in the farmer's house.
The tankard is in the chest in the farmer's hidden room, behind his bookshelf.